Buried. at Buried behind the High Altar at Sclerder Abbey, Cornwall England.
Source

Nb.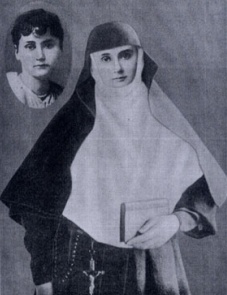 Nb. After the death of her mother 1872, she was brought to England and lived with her mother's sister, Hannah Imrie (M. to William Imrie (half owner White Star Shipping line)) and later adopted by Hannah & William.
On coming of age she became a Catholic and Joined the Franciscan Order of Poor Clares.
As Sister Mary Clare, she was Foundress of Sclerder Abbey, near Polperro, Cornwell, and became its first Mother Abbess. Sister Mary Clare also built the church of St. Mary of the Angels in Liverpool using her inheritance of the Imrie estate.