A
B
C
D
E
F
G
H
I
J
K
L
M
N
O
P
Q
R
S
T
U
V
W
X
Y
Z
?
A
B
C
D
E
F
G
H
I
J
K
L
M
N
O
P
Q
R
S
T
U
V
W
X
Y
Z
?
No Surname INDEX
Marriage
b. 15 Nov 1922 at Carrington Road, New Plymouth, NZL

Nb. Birth Index microfiche ref, 1923/589


d. 17 Dec 1985 at 11 Norfolk Cres Fielding (At home), NZL

Nb. Death Index microfiche ref, 1985/22631


Buried. at Feilding, NZL
Cremated.


Nb. named after his uncle who was killed Gallipoli WWI.


Nb. Flying Officer 416194 RNZAF 489 Squadron WWII.
While training in Saskatoon Canada in a sudden storm forced Bert and his instructor to have to parachuted to safety after they lost control of the plane. A bad landing compacted his spine and crushed several vertebrae in his neck, pinching nerves. He was never again able to move his head without considerable pain (which grew worse with age). His rib cage was fixed inhibiting his breathing (his Pilot's Flying Log Book gives the date of this event as July 8 1942).

He continued flying, finished his training and flew 54 missions with the RAF No. 489 Squadron, six in Hampdens followed by 48 as a Beaufighter pilot. He was awarded the Distinguished Flying Cross by King George in 1945 just before his return to NZL He married 6 weeks after his return and then moved to Auckland and spent another 6 months in the Air force. He gave this up as he was spending too long away from home and moved back to New Plymouth and worked for several years for the Social Welfare Dept. He then became pilot for Rural Aviation (Farm and Forestry top-dressing), later becoming the Managing Director and renamed the company, Midland Aviation.


Nb. He served as Counciller on the Aviation Industry Association of New Zealand 1969 to 1973 and Division branch Chairman for Wellington-Taranaki.

b. 27 Dec 1921 at Mrs Hardgrave's Lemon Street New Plymouth NZL



Nb. First flight was in a Tiger Moth owned by Rural Aviation and flown by Husband. See family photo of two tiger moths on field.

Marriage. 5 May 1945 at St Mary's Anglican Church New Plymouth, NZL



Source.Marriage Cert OFFI: Rev. A.M.Niblock Bride: Single, ADDR New Plymouth, BIRT New Plymouth FATH: Leo Clarence /RICHARDS/, OCCU Labourer MOTH: Sarah Ellen /FINIKIN/, NOTE Summers formerly Richards nee Finikin GROOM: Single, OCCU Airman, ADDR New Plymouth, BIRT New Plymouth FATH: Stanley Gadfield /BURROWES/, OCCU PAINTER MOTH: Emma Elizabeth /JONES/ WITN: Victor F. /ROBERTSON/, ADDR 21 Sherwood Ave, Grey Lynn, Auckland., OCCU R.N.Z.A.F. WITN: Audrey /RICHARDS/, ADDR 197 Gill Street, New Plymouth., OCCU Domestic




Nb.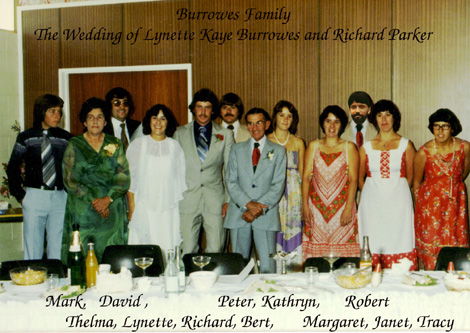 Children
Go to the Tree's Entry Page.
Dump raw GEDCOM
---
Maintained by Rob Burrowes.
Rob's Home Page